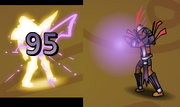 Fate is an A.I. exclusive ability in Sonny.
Deals damage to enemy with 50% of the caster's Magic and causes a buff that causes the target to take 9999 shadow damage for 1 turn.
Fate: This unit is going to die.
This skill looks identical to Dark Regen, Wrath Aura and Flawed Design.
Death Sentence is also an abillity that the buff deals 9999 damage. However, Fate is disspellable, and the buff lasts 1 turn, Death Sentence is undisspellable and the buff lasts 10 turns.
Community content is available under
CC-BY-SA
unless otherwise noted.